How to calculate girth and length of a package using the parcel dimensions
Many UK Parcel Delivery Services & International Couriers have restrictions on the maximum combined
length and girth of each package you send. This is often referred to as the 'Max Girth'.
These restrictions are to ensure your package fits comfortably onto sorting conveyor belts and delivery
vehicles. specializes in large & heavy parcel delivery, so no matter what you're shipping, our
flexible courier services use the world's largest carriers to support any large item requirement.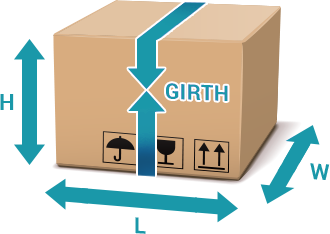 Simply enter the three parcel dimensions of your parcel into our handy tool below
and we will calculate the combined length and girth for you.
Calculate the length & girth of your parcel manually
To calculate the girth of a package, follow these guidelines:
1. Measure the three parcel dimensions in centimetres.
Example: 50 cm (Length) x 40 cm (Width) x 30 cm (Height).
2. Add the measurements of the two smallest dimensions together. Multiply the result by two. This is the girth of your package.
Example: 40 cm (Width) + 30 cm (Height) = 70 cm. 70 cm x 2 = 140 cm (Girth).
3. Now simply take the longest dimension and add this to the package girth. The result is the combined length and girth of your parcel.
Example: 50 cm (Length) + 140 cm (Girth) = 190 cm (Combined Length and Girth)
Tip:
In logistics the measurement of each side of your parcel is called a 'dimension'. Every parcel has three dimensions:
length, width and height. The largest measurement will always be considered the length of a parcel.

Why is the
parcel girth
measurement important?
partners with leading couriers such as UPS, DHL, FedEx, TNT and DPD. Each partner
courier has a different set of restrictions. For example, the maximum length and girth UPS will accept for a package
is 419 cm, whereas TNT's is much larger and DPD's much smaller.
When you complete the Instant Quote Tool, will only display parcel delivery options
that are available for the size of the package you are sending. This is why it's really important you enter
accurate size and weight information.
Some couriers will apply additional surcharges if your package exceeds their normal restrictions. For
example, UPS will apply a surcharge of around £30 for any package exceeding 330cm Length + Girth.
will include all charges in your quote so there are no hidden surprises.